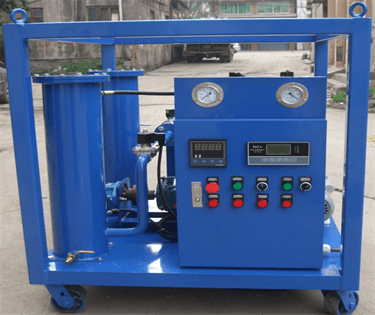 Name : ZYE vacuum oiling equipment for Zimbabwe
Model : ZYE vacuum oiling equipment
Catalogue : CASE
Vacuum oiling equipment
Oil type: insulation oil
Model: ZYE-30
ZYE vacuum insulation oiling equipment is also called vacuum injector. it is widely used in various of substation and other suitable amount of filling oil equipment for filling oil and vacuum.
ZYE Vacuum Injectors (Other name is casing  injectors ) adopts advanced control technology, high quality filter and efficient vacuum pump, It is automatic vacuum and oil filling, So effectively control water content in insulating oil. It is widely used in electric power system of electric current, voltage transforme as CT, PT) .
After  periodically taking  sample testing,It need to add  oil for the oil level lower of CT and PT.It solves the traditional method of artificial filling oil caused by adsorption air in CT and PT coil , or the problem of false oil level caused by residual air. In all operating process without any air bubbles, It not need to stop using PT/CT.
Machine structures:
Small size, reliable performance, convenient operation, greatly reduces the labor intensity and work harder, to ensure the safety of the equipment operation.
The ZYE  online vacuum injectors is mainly composed of special connector, oil pump, oil tank, rough filter, electric heater, fine filter, liquid level sensor, temperature sensor, vacuum pump, vacuum gauge, valve group and the control system.
Features:
1.  Online filling oil, adjust the oil level Automatic keep vacuum degree
2.  High efficient remove particles of impurities
3.  Automatic constant temperature heating micro water
4.  Overpressure protection system
5. Step by step by  hand or automatic control
Product Name: ZYD-II-100 Transformer Oil Purification System Working For Wind Power Station Model: ZYD-II-100 Capacity: 6000L/Hr [...]
Product Name: ZYS-M-70 Mobile trailer vacuum oil purifier Model: ZYS-M-70 Capacity: 4200L/Hr Usages [...]
Product Name:  ZYR-90 Hydraulic oil decoloring machinery Model: ZYR-90 Capacity: 1800L/Hr Usages: ZYR [...]
Product Name: ZYC-50 Waste Cooking Oil Purification Machine Model: ZYC-50 Capacity: 3000L/Hr Usages: The ZYC model machine [...]
Product Name: 600L/S Vacuum Extraction System For South American Client Model: ZYV-600 Capacity: 600L/S Usages: [...]
Product Name: ZYV-600 High Vacuum Pumping System  Model: ZYV-600 Capacity: 600L/S Usages: For all the oil [...]
Product Name: ZYD-I High Vacuum transformer oil purification system working onsite. Model: ZYD-I-100 Capacity: 6000L/Hr [...]