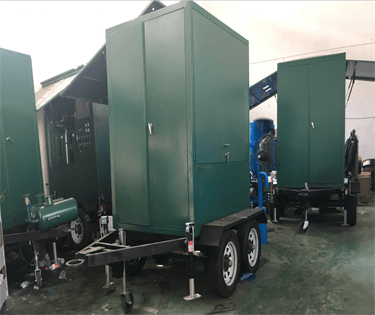 Product Name: ZYS-M-70 Mobile trailer vacuum oil purifier
Model: ZYS-M-70
Capacity: 4200L/Hr
Usages and details:
ZYS-M is single stage vacuum oil purifier, it can be used for purifying transformer oil, lube oil, hydraulic oil, turbine oil, etc.
These four mobile trailer vacuum oil purifier, has Biaxial trailer and enclosed doors with brakes, lighting, oil pan, oil leaking sensor, alarm. According to clients requirements, it is standard configuration with vacuum pump, and electric appliance, etc. please contact more with us for more information.
welcome to contact with us with more information.
Also, you can click ZYS single stage vacuum oil purifier and ZYM mobile oil purifier for more information.
Product Name: ZYD-II-100 Transformer Oil Purification System Working For Wind Power Station Model: ZYD-II-100 Capacity: 6000L/Hr [...]
Product Name: ZYS-M-70 Mobile trailer vacuum oil purifier Model: ZYS-M-70 Capacity: 4200L/Hr Usages [...]
Product Name:  ZYR-90 Hydraulic oil decoloring machinery Model: ZYR-90 Capacity: 1800L/Hr Usages: ZYR [...]
Product Name: ZYC-50 Waste Cooking Oil Purification Machine Model: ZYC-50 Capacity: 3000L/Hr Usages: The ZYC model machine [...]
Product Name: 600L/S Vacuum Extraction System For South American Client Model: ZYV-600 Capacity: 600L/S Usages: [...]
Product Name: ZYV-600 High Vacuum Pumping System  Model: ZYV-600 Capacity: 600L/S Usages: For all the oil [...]
Product Name: ZYD-I High Vacuum transformer oil purification system working onsite. Model: ZYD-I-100 Capacity: 6000L/Hr [...]