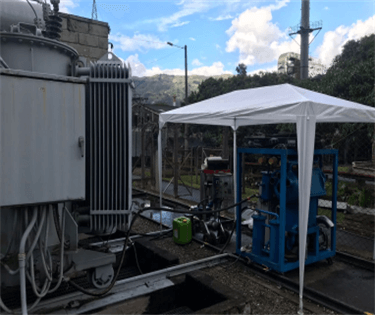 Product Name: Single Stage Vacuum Transformer Oil Purifier
Model: ZYS-50
Capacity: 50L/Min
Usages:
The capacity is 3000L/Hr for the ZYS-50 model. For the vacuum degree, the ideal ultimate vacuum value is 0.001 kg/cm2 .
For the ZYS single stages vacuum transformer oil purifier, it equipped with only one vacuum pump. It is suitable for purifying the transformer oil with less moisture content.
We provide the factory price, you are warmly welcomed  to join us, you can be our oil purifier agent, and we are eager to keep permanent cooperation with you. All agent and OEM are welcomed. Thank you.
if you are interested in this machine, you can check: Transformer Oil Purifier
Product Name: ZYD-II-100 Transformer Oil Purification System Working For Wind Power Station Model: ZYD-II-100 Capacity: 6000L/Hr [...]
Product Name: ZYS-M-70 Mobile trailer vacuum oil purifier Model: ZYS-M-70 Capacity: 4200L/Hr Usages [...]
Product Name:  ZYR-90 Hydraulic oil decoloring machinery Model: ZYR-90 Capacity: 1800L/Hr Usages: ZYR [...]
Product Name: ZYC-50 Waste Cooking Oil Purification Machine Model: ZYC-50 Capacity: 3000L/Hr Usages: The ZYC model machine [...]
Product Name: 600L/S Vacuum Extraction System For South American Client Model: ZYV-600 Capacity: 600L/S Usages: [...]
Product Name: ZYV-600 High Vacuum Pumping System  Model: ZYV-600 Capacity: 600L/S Usages: For all the oil [...]
Product Name: ZYD-I High Vacuum transformer oil purification system working onsite. Model: ZYD-I-100 Capacity: 6000L/Hr [...]