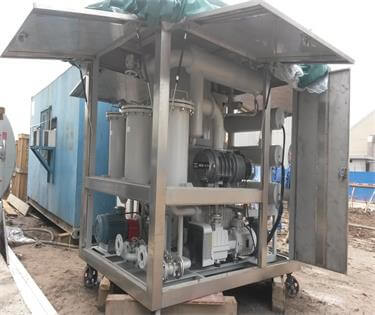 Name : ZYD-I-150 Transformer oil purifier
Model : Transformer oil purifier/transformer oil filtration/transformer oil purification
Catalogue : CASE
Products name: Transformer oil purifier/transformer oil filtration machine/transformer oil purification
Model:ZYD-I-150
Capacity is 9000l/h
This machine is used for purifying transformer oil. it is made for our Xian customwer., cost more than USD95000.
Because all parts of the machine are from famouse factory or imported from other company.
ZYD-I Double stages vacuum transformer oil filtration machine is used mainly applied in power plant, power station, transformer factory, electric power company, power transformation, metallurgy, petrifaction, machinery, traffic, railway and so on.ZYD-I can remove particles, dewater, degas from the old and new insulating oil. Especially for the 110KV-500KV large-scale transformer station, ZYD-I oil filtration machine is particularly suitable for treating high-grade transformer oil, super-voltage transformer oil and new transformer oil.
Product Name: ZYD-II-100 Transformer Oil Purification System Working For Wind Power Station Model: ZYD-II-100 Capacity: 6000L/Hr [...]
Product Name: ZYS-M-70 Mobile trailer vacuum oil purifier Model: ZYS-M-70 Capacity: 4200L/Hr Usages [...]
Product Name:  ZYR-90 Hydraulic oil decoloring machinery Model: ZYR-90 Capacity: 1800L/Hr Usages: ZYR [...]
Product Name: ZYC-50 Waste Cooking Oil Purification Machine Model: ZYC-50 Capacity: 3000L/Hr Usages: The ZYC model machine [...]
Product Name: 600L/S Vacuum Extraction System For South American Client Model: ZYV-600 Capacity: 600L/S Usages: [...]
Product Name: ZYV-600 High Vacuum Pumping System  Model: ZYV-600 Capacity: 600L/S Usages: For all the oil [...]
Product Name: ZYD-I High Vacuum transformer oil purification system working onsite. Model: ZYD-I-100 Capacity: 6000L/Hr [...]