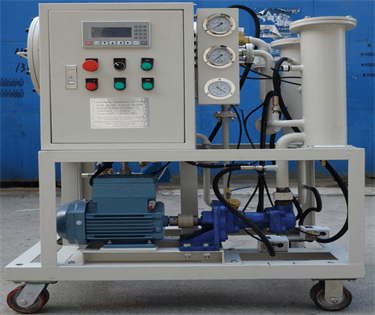 Name : diesel oil purifier
Model : light oil purifier
Catalogue : fuel oil purifier
Coalescing:
separation oil purifier for purifying diesel fuel oil
ZYJ Coalescing
separation oil purifier is special for purify diesel oil, turbine oil, hydraulic oil, lube oil etc., to removing the water and particles from oil.
According to the demand, It can work bypass and online filtration.
function as following:
A. Breakdown all emulsified oil.
B. removing free water, the content of free water may be less than 100PPM, the better one can reach to 50PPM.
C. Removing the particles from oil. Making oil clean, the oil cleanness can be NSA6.
ZYJ has the function of removing water and particles, reflect on the physical machine, there are two single filtration loop: circulation filtration loop and dehydration filtration loop.
There are two functions, we can choose any one function of them. If we want to remove particles, we can choose different micron filters for different requirements.
If we want to remove water, we should remove particles firstly, because coalescence filter is not good for holding much particles, if there is much particles, it will affect coalescence filter function, lost the dehydration function.
So for prolong coalescence filter lifetime.
Customers choose the oil purifier according to your practical application.