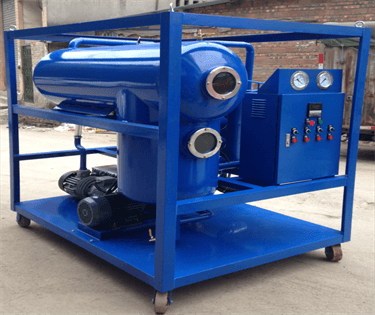 Name : ZYS-100 Insulation oil purifier working onsite
Model : Insulation oil purifier
Catalogue : CASE
Product name: Single stage vacuum insulation oil purifier
model: ZYS-100
Capacity:6000L/H
Function:ZYS Single stage vacuum transformer oil purifier machine is used for removing moisture, gas, particles from the transformer oil, insulating oil, switch oil, cable oil, and electric condenser oil.
In this way, it can improve oil dielectric strength very quickly and effectively.
This machine is specially designed for our LanZhou customer, we adopt the newest technology of the foam detecting system, it will be much better than the fom senser.
If you need more information, please contact with us freely.
Product Name: ZYD-II-100 Transformer Oil Purification System Working For Wind Power Station Model: ZYD-II-100 Capacity: 6000L/Hr [...]
Product Name: ZYS-M-70 Mobile trailer vacuum oil purifier Model: ZYS-M-70 Capacity: 4200L/Hr Usages [...]
Product Name:  ZYR-90 Hydraulic oil decoloring machinery Model: ZYR-90 Capacity: 1800L/Hr Usages: ZYR [...]
Product Name: ZYC-50 Waste Cooking Oil Purification Machine Model: ZYC-50 Capacity: 3000L/Hr Usages: The ZYC model machine [...]
Product Name: 600L/S Vacuum Extraction System For South American Client Model: ZYV-600 Capacity: 600L/S Usages: [...]
Product Name: ZYV-600 High Vacuum Pumping System  Model: ZYV-600 Capacity: 600L/S Usages: For all the oil [...]
Product Name: ZYD-I High Vacuum transformer oil purification system working onsite. Model: ZYD-I-100 Capacity: 6000L/Hr [...]