A transformer is a mechanical device that is capable to transfer electrical power from one circuit to another circuit. So, in order to keep the transformer running and generating power, you need to maintain the transformer by providing it with good quality transformer oil.
The oil that is essential for the transformer can degrade and lose its quality with several factors such as exposure to any undesirable elements, dust, moisture, etc. What happens is the exposure of the oil mix up with other elements, and contaminates the oil.
This contaminated oil cannot be used in the transformer and that is why oil purification or filtration is required.
In this article, you will learn what exactly the transformer oil purification is, why it is required, what can happen if you don't filter or purify the oil, and most importantly we will share with you which company in China has the best Oil filter machine.
So without further ado, let us begin by understanding transformer oil and why it is required.
Transformer oil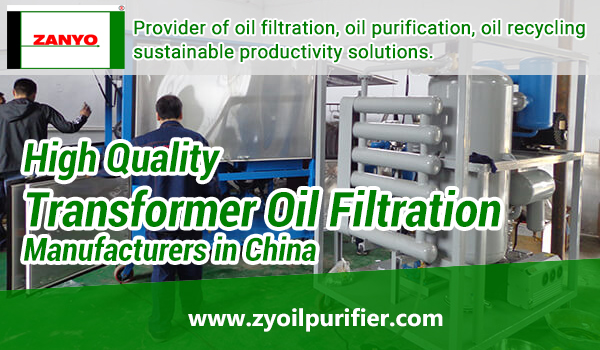 Transformer oil happens to be one of the most crucial elements in the electrical power industry. Why? Because it is something that guarantees the working of the transformer without disturbance.
Let us have a quick glance at its functions which will make us more clear about transformer oil.
Functions of transformer oil
1: Transformer oil cools down the transformer:
One of the most highlighting properties of transformer oil is that it is stable at high temperatures, so it can be used when the temperature of the transformer increases due to voltage alteration.
2: Transformer oil is required in the transformer to increase the resistance between windings, thus saving the transformer from getting short circuits.
3: Transformer oil can prevent the transformer from getting damage:
The temperature of oil inside the transformer reveals the inner status of the transformer. So, any fault in the transformer can be predicted. Thus, helping the operator to take actions before severe damages & losses.
Transformer Oil Purification
In order for transformer oil to function properly, it is necessary for oil to be purified. Oil purification is the process of removing elements such as dissolved gas or sludge from the oil.
This is done with the help of a transformer oil purification machine.
What is transformer Oil Purification Work
Here is what will happen in the transformer if the oil is not being purified.
Breakdown of the system due to archingOverheatingCorona DischargeThe oil will lose resistance between windings
Now to prevent these shortcomings it is essential that the oil is purified before use. Here is how oil purification can help.
Benefits of transformer oil purification
Regulate the temperature of the transformerIncreases the life span of the transformerDecreases the chances of system breakdownIncrease resistance between windings
Best Choice For Quality Oil Filter Machine
Nobody can deny the fact that there are thousands of transformer oil purification manufacturing companies spread all over in China alone. However, if you are looking that stands out from every other company, look nowhere else other than ZANYO.
ZANYO is a China oil purifier company that is continuously growing in its sector by providing quality transformer oil purifiers along with other devices such as – Oil filtration machines, oil recycling plant, hydraulic oil filter machine, turbine oil treatment machine, air purification drying system, etc.
It is widely popular for its commitments in providing services that are safe, energy-efficient, and does not harm the environment. This is why ZANYO's every product passes the ISO, CE testing and certificates.
ZANYO has almost all those products that are required in electric power stations, chemical, waste disposal, petroleum, mining, various plants, and many other industries.
Summary
In order to keep the transformer running in good condition, it is necessary to provide a transformer oil in the system. However, if the oil is contaminated than the transformer may not function properly and there are chances that it may get damaged. That is why oil purification is needed to detach any sort of contaminating element from the oil.
The best option that you have is investing in an oil purification machine from ZANYO. If you are serious and looking for quality products that are safe for the environment, it is a reliable company for you to make a choice.