High Voltage Vacuum Purifier Equipment Performance and Usages
UVP Ultra-high Voltage Transformer Oil Purifier is Especially for ultra-high voltage project as ( 1000KV, ±800KV, 750KV, ±660KV) Substation Maintenance Contractors and Utilities need an UVP Ultra-high Voltage Transformer Oil Purifier that can quickly and reliably process transformer oil to meet or exceed very stringent specifications;
In order to achieve optimal dielectric strength and insulating performance inside of transformers and circuit breakers, dielectric oils must be kept absolutely clean and dry;
ZANYO designs and manufacture the most effective, durable, and user-friendly machine running and serving customers in 40 more countries with good reputation.
Functions
Degassing: to remove other dissolved combustible gases such as Acetylene, Ethylene, Ethane, Methane, Hydrogen and Carbon Monoxide, and Carbon Dioxide.
Dehydrating: to remove free and dissolved water, including insulation dry-out of the windings.
Solid particles Removing: to remove solids particles.
Decoloring and recycling: to remove acids and make the oil color good.
Technical Features
Specially designed the evaporation chamber(clients can choose), to make larger space for degassing and dehydration.
To adopt with auto- pressurization defoaming technology, more than 200 hours of continuous operation without bubbles rise.
Unique technology: Atomizer is placed inside at the bottom of the chamber, to increase the evaporation area and extend the degassing time.
To adopt vacuum balance pressure technology, vacuum pumping efficiency increased by 50%.
Advanced level control system, continuously oil supply to prevent oil pyrolysis.
Advanced level control system.
PLC controlling system.
All parts are from world's famous brands.
Technical Parameters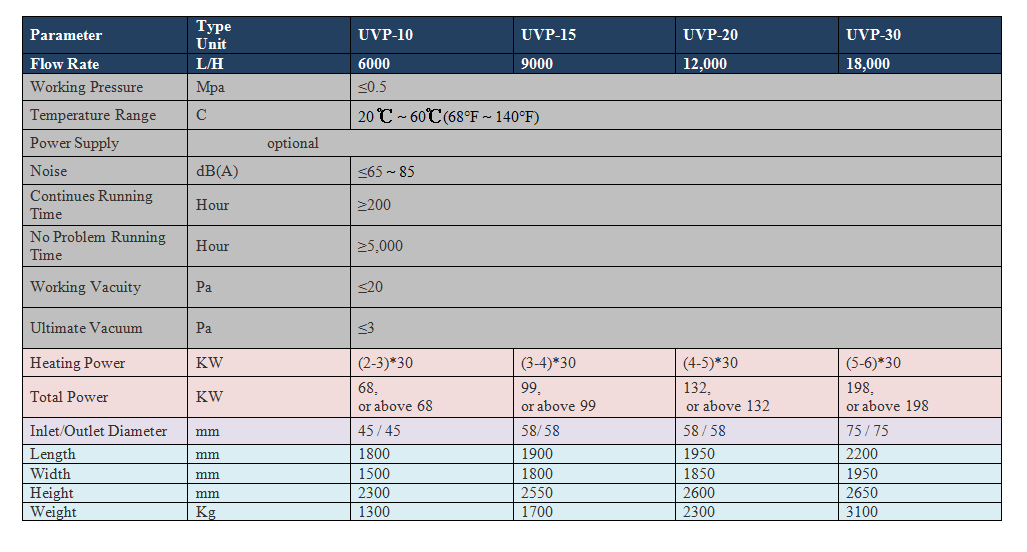 Technical Performance