Performance and Usages
ZYS-6 with the capacity of 360L/Hr , it is small structure, and easy to move, with vacuum system. Portable Insulation Oil Filter Equipment is mainly used to remove moisture, gas and impurities from insulation oil and improve insulation performance.
ZYS-6 only equipped with one vacuum system, and three filtration system. for luxury type oil machine, it adopted foams eliminate system, PLC controlling, also Germany Leybold vacuum pump, Germany oil pump, ABB motors, etc.
Portable Insulation Oil Filter Equipment is suitable for purifying unqualified transformer oil, cable oil, switch oil and other insulating oil; and also for degassing, dehydrating and removing impurities of hydraulic oil, aviation oil, lubricating oil etc.
ZYS-6 can be used to power equipments to vacuum drying, and vacuum oiling.
Working Principle
Since the boiling point of water in oil drops greatly under high vacuum conditions, there is no need by using high temperature to evaporate water. Similarly, the higher temperature, the faster evaporation of water. Under this principle, people can quickly and effectively remove water, degas from the oil through heating and high vacuum, and then to remove particles by using of filtration system, finally , oil will be clean.
Working Processing
Oil is inhaled into heater after going through the coarse filter, the oil temperature rises, oil ,water and gas are separated in the vacuum separation tank.  Water and gas are removed by vacuum pump and oil is purified by fine filter, finally pumped out of oil purifier.
Technical Features
Adopting many innovative designs from oil purifier industrial at home and abroad, it is at the leading level in oil treatment technology and equipment performance, with characteristics of high working vacuum, high oil purifying efficiency and high precision.
Control System: Optimized design of control interlock protection device, overpressure alarm and protection, phase sequence protection, to ensure whole machine working stably for a long time. Automatic pressure alarm system, automatic overload protection system, automatic constant temperature system, automatic bubble elimination system, automatic protection of blowout prevention and other advanced technologies, to ensure the safe operation of untended operation.
Degassing And Dehydration System: Adopting advanced atomizing system, three-dimensional separation tower and flash evaporation technology, it can quickly remove moisture and gas from the oil by forming parabolic in the special designed vacuum tank.
Oil Filtration System: Adopt high quality filter element, multi-stage precise filtration, and level-by-level encryption technology, which can remove fine impurities and absorb large amount of pollution. Primary filter can be cleaned and used repeatedly without secondary pollution.
Heating System: by using of high quality heating elements, excellent corrosion resistance, thermal stability, viscosity resistance, insulation, chemical resistance and wear resistance. The safe and reliable carbon fiber heating system with the functions of quickly heating, heating uniform, etc..
Oil Transferring System: adopt to choose different type of oil pump according to the oil quality and oil viscosity. Special material and special performance curve ensure that oil flowing will never cause gap discharge to bring acetylene, oil treatment process and equipment performance is in the leading position.
Transformer Oil Recycling System(optioinal): It can quickly remove carbon deposition from transformer oil which caused by arc, to make the inferior oil quality reach new oil standard.
Optional Configuration: PLC control, touch screen, moisture sensor, BDV Oil tester, enclosed doors, mobile trailer, lights, tool box, special frame designing, etc.
Technical Parameters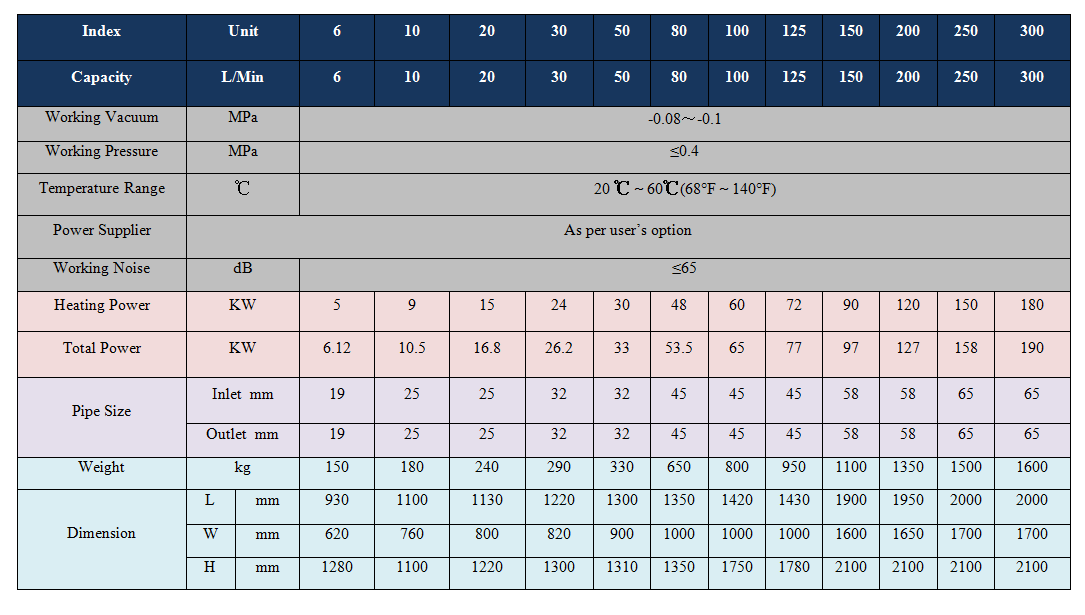 Technical Performance
After oil filtration treatment, the following indexes are achieved:
Optional Configuration
Vacuum Pump: Atlas, Leybold ,Busch,Joysun,Hokaido Etc.
Oil Pump: Italy Seim Screw Oil Pump, Germany KRACHT, Tianjin Screw Oil Pump, Etc.
Electrical: Siemens, Schneider
Other : PLC Controlling System, Enclosed Doors,
Oil Testers: BDV Oil Tester, Moisture Sensor, Flow Meter Etc.