Performance and Usages
Fully Explosion-Proof Oil Purification System is widely used in flammable, explosive areas. It is used for purifying lubricating oil, turbine oil, hydraulic oil, insulation oil, etc. , On the basis of vacuum oil purifier, adopted full explosion-proof designing, to make it meet the requirement of explosion-proof environment. Explosion-proof Grade (Exdia Ⅱ BT4) (Exdeib Ⅱ CT4) two types. it can meet the higher requirements of explosion-proof workshop or areas, to ensure the reliability and security of oil filtering hazardous areas.
ZYD-E Transformer Oil Purification System can quickly remove water, trace water, gas, particles as well as acetylene, hydrogen, methane and other harmful ingredients from oil effectively to improve oil's dielectric strength, effectively making sure electric equipments working safely and normally.
ZYD-E can be used for filtration of more than 110V and 110KV above substation live line work onsite. Meanwhile, ZYD-E Transformer Oil Purification System can be used as independent vacuum source with functions of vacuum drying and vacuum oiling.
Technical Features
The whole machine is designed full explosion protection, it is to guarantee the safety operation under special environment.
"T "type double vacuum separation technology, double stages thin film drying degassing technology, double evaporation area and degassing time.
Control System: full explosion-proof optimized design of control interlock protection device, overpressure alarm and protection, phase sequence protection, to ensure whole machine working stably for a long time. Automatic pressure alarm system, automatic overload protection system, automatic constant temperature system, automatic bubble elimination system, automatic protection of blowout prevention and other advanced technologies, to ensure the safe operation of untended operation.
Oil Transferring System: adopt to choose full explosion-proof oil pump. Special material and special performance curve ensure that oil flowing will never cause gap discharge to bring acetylene, oil treatment process and equipment performance is in the leading position.
Patented degassing tank: anti-foam structure & Dual electronic foam monitoring system "( key components are from Switzerland), completely eradicating oil entering into vacuum pump.
Oil atomized particles size is less than 50um, largely increasing efficiency for water molecules and gas molecules escaping from oil molecules.
Full Explosion-Proof Heating System, vigorously increase contact area between heater and oil (2w/cm2), reduce the surface temperature of heater, and prevent oil cracking and aging.
To install liquid level and temperature protector of heater, prevent instantaneous high temperature of heater.
Vacuum pump cooler preposition, to reduce water get into vacuum pump, reduce the frequency to change vacuum pump oil and extend vacuum pump lifetime.
High precision filtering element, fine accuracy is 1 micron(optional: 0.5 micron),β≥1000.
Outlet oil pressure protector, to monitor pressure of oil filters all the time, effectively protecting machine and operators.
Adopt interlocked protective system, which connect oil pump, heater and liquid level sensor, avoiding blank heating, blank pumping, oil leak and electricity leak.
Adopt the high pressure oil pump, oil transmission stable, low noise, long life
Using famous brand high quality components, performance is stable and reliable.
Automatic float ball & electronic oil level automatic controlling system, to realize unattended operation.
Easy operation and trouble reminder and trouble shooting tips.
Technical Parameters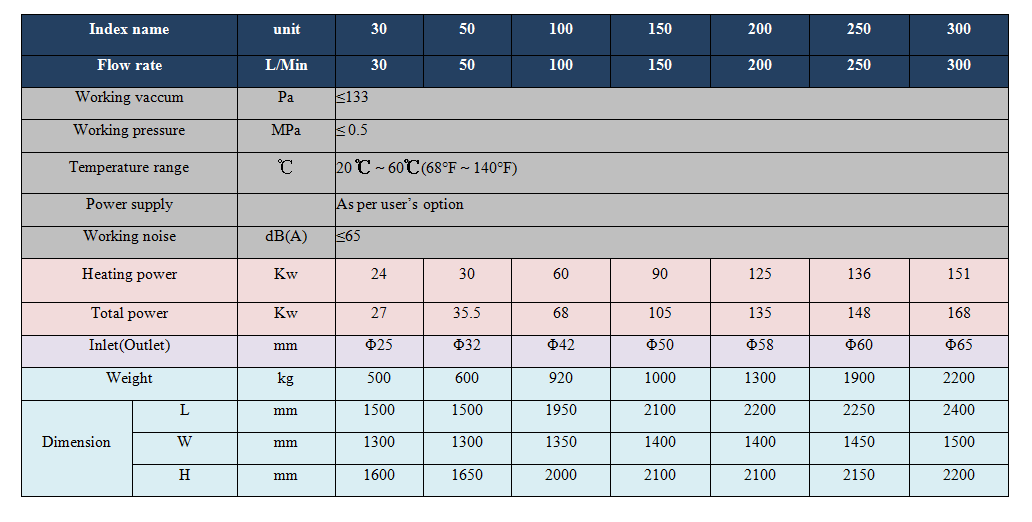 Technical Performance
After oil filtration treatment, the following indexes are achieved:
| | |
| --- | --- |
| Breakdown Voltage Value | ≥70KV |
| Fine Filter Precision | ≤1-3μm |
| Gas Content | ≤0.05% |
| Water Content | ≤3ppm |
| Working Temperature | 40-70℃ |
| Working Vacuum | ≤133pa |
| Ultimate Vacuum | ≤5pa |
Optional Configuration
Vacuum Pump: Atlas, Leybold ,Busch,Joysun,Hokaido Etc.
Oil Pump: Italy Seim Screw Oil Pump, Germany KRACHT, Tianjin Screw Oil Pump, Etc.
Electrical: Siemens, Schneider
Other : PLC Controlling System, Enclosed Doors,
Oil Testers: BDV Oil Tester, Moisture Sensor, Flow Meter Etc.