Performance and Usages
ZYT Vacuum Turbine Oil Filtration Machine is a special equipment for filtering turbine oil (steam turbine oil), lubricating oil and cooling oil, it has the functions of removing large amount of water and precision removing of impurities from oil.
Such as power plant, power station steam turbine, during the process of operation, water, dust and impurities will be mixed into turbine oil. these accelerate oxidation of oil, and produce foams, scale and sludge. thus, oil is seriously emulsified, oil and water is hard to separate, oil lubrication function , speed regulation, heat dissipation, cooling and other performance are reducing. Steam turbine metal parts is rusting, and affects safety of operation of the steam turbine. ZYT Vacuum Turbine Oil Filtration Machine is an indispensable overhaul equipment for power plants and power stations.
ZYT Vacuum Turbine Oil Filtration Machine can quickly and efficiently break emulsification, separate large amount of water, gas, particles from oil, to makes sure quality of treated oil to achieve new oil's standard, ensure whole turbine system work safely.
Purified Oil:
Technical Features
Adopted American coalescing separation atomization technology, to maximize oil travel time and area in vacuum systems; The water and gas are fully vaporized ; Dehydration and degassing are high-efficiently.
Advanced gas drying and decompression technology,it can increase dehydration efficiency exponentially.
High precision filter system, with perfect structure and stable filtration accuracy, accuracy is 1-3 micron. The β value of final outlet is ≥1000. Work with gas recoil technology, to prolong the oil filter lifetime exponentially.
The heating system adopts safety interlock protection, to avoid no oil heating.
PLC control technology, to achieve unattended operation.
Fully automatically defoaming technology, to protect vacuum pump, and achieve to high vacuum.
Phase sequence automatic control technology, can prevent machine parts being damaged by phase missing or wrong phase sequence.
For oil pump, ZANYO adopts principle of reducing speed and pressure, finally to reduce noise.
Adopt ship type chassis structure, to ensure no oil spilled or leaked on the ground and reduce environmental pollution
Technical Parameters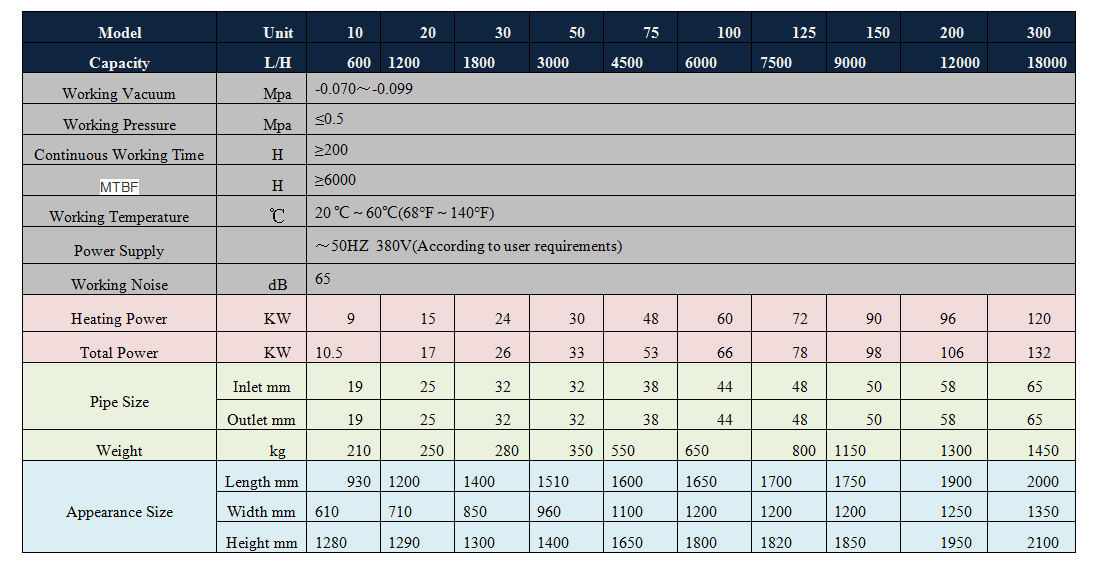 Optional Configuration
Vacuum Pump: Atlas, Leybold ,Busch,Joysun,Hokaido Etc.
Oil Pump: Italy Seim Screw Oil Pump, Germany KRACHT, Tianjin Screw Oil Pump, Etc.
Electrical: Siemens, Schneider
Other : PLC Controlling System, Enclosed Doors,
Oil Testers: BDV Oil Tester, Moisture Sensor, Flow Meter Etc.