In order to remove dust, gases and other contaminants as well as other undesirable materials like acids, moisture, and metal dust, etc. dissolved in transformer oil, a transformer oil filters machine is used.
Reasons to use a transformer oil purification machine
In fact, to convert high-voltage grid power supply to appropriate levels to run machines and appliances safely transformers are used. To maintain the working life of the transformers for a long time clean and high-quality transformer oil is used in them.
This oil gets degraded with time due to its exposure to a number of unwanted materials like moisture, metal dust, acids, gases, and other contaminants. So to purify this transformer oil it has to be filtrated. Transformer oil processors are used by various transformer maintenance and services centers for the purification of transformer oil by using high-end techniques. In this way, the maintenance staff at these centers helps in improving the operation and performance of the transformer.
Working of  transformer oil filtration system
This process of filtration of transformer oil is used to remove the gas, particles, sludge, and moisture from the oil. This process is used to improve the acidity level of the oil also. To purify the oil following steps are used.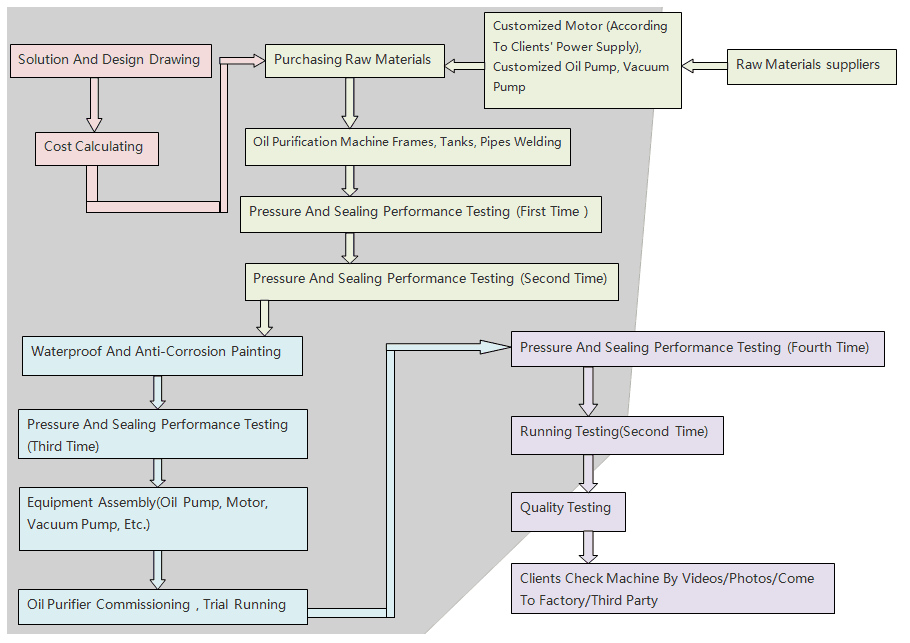 Transformer oil filtration machines used to purify the transformer oil first of all increase the temperature of the oil up to 75 degrees C to separate gases and moisture from it by giving them latent heat. Moreover, the viscosity of oil decreases by heating it to make the filtration process easier.
In the second step dirt and sludge are removed from the transformer oil by using either of the two methods including:
Using filter candles:  Depth type or classic edge filter is used to filter transformer oil by filter candles. However, some of the advanced machines use filter cartridges instead of filter candles made of edge type paper filters.The fine filter can be 0.5 micrometer or 1 mirometer.
Using the centrifugal method:  This method can help in removing dirt from the transformer oil without changing filters again and again.
Then to remove moisture from the transformer oil dehydration process is carried out. The oil purification process is completed by processing it in degassing chambers to remove gases from it.
Introduction to the manufacturers of transformer oil purification machines
If you are looking for a reliable company producing transformer oil purification machines then Zanyo is the best. Zanyo Oil Purification Company is one of the top China Oil Purifiers Manufacturers. We are manufacturing transformer oil purification machines in China for long on the basis of our long experience and expertise in this field.
Reasons to choose ZANYO Oil Purifier Company
We lead the oil purification and filtration industry of China. In order to satisfy our customers, we know how to provide them the best quality solutions for their transformer oil purification and filtration related issues. We can provide them various types of high-quality and advanced products like oil recycling plants, oil filtration machines, oil testing equipment, and air drying equipment, etc. to meet their needs.
We use the best materials to manufacture our machines. We also take care of energy consumption and maintenance of environmental health. We supply our products and services used in electrical plants throughout the world. We also manufacture various other types of plants including petroleum plants, chemical plants, and waste disposal plants to help our clients in different ways.