When you get the Transformer Oil Purifier from suppliers. Firstly, you have to check the machine first, then you will study the operation manual. What's the Transformer oil purifier working steps? How to use it? We will list the steps of transformer oil purifier operation.
Step One:
To Clean Transformer Oil Purifier:
When pumped the oil into oil tank or the oil tank is oil drained, connect the oil pipes. The high-vacuum oil purifier to heat the oil by self-circulates, and do self-cleaning and it help to clean the oil pipes. The inside of the oil tank can be cleaned without transformer oil. The flushing oil should be stored separately and marked well.
Step Two:
To Clean The Oil From Barrel.
When discharging transformer oil from barrels, if you have portable oil purifier machine (such as plate press oil purifier/portable oil purifier), you can use this portable oil purifier for purifying the oil. if you do not have, you can use the vacuum Transformer Oil Purifier.
Before purifying the oil, as step one, you clean the machine. the oil pipe which put into the barrels better to be galvanize pipe, and pipe mouth should be processed to 45°. When the oil is drawn to the barrel bottom, please check the oil quality at the bottom of the barrel. If there are many impurities, the bottom oil may not be drawn.
This oil is prepared for on site oil purifying.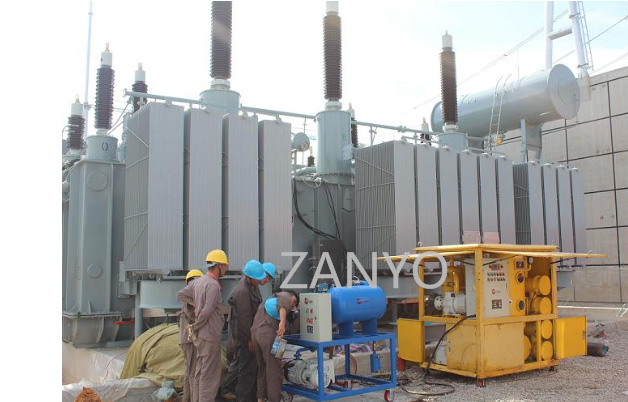 Steps Three:
To import the transformer oil into oil storage tank, then purify the oil by high vacuum transformer oil filtration machine. In order to improve the oil filtering effect, the oil filtering method can be inverted filtering method. That is, one storage tank is used for storing the oil is filtered by the high vacuum oil purifier, the other oil storage tank is for storing the old oil, and finish the first one oil purifying cycle. If there are few oil storage tanks on site, use oil storage tank self-circulation, and seal the oil tank well.
The outlet temperature of the oil purifier should not be lower than 50°C.The filtered transformer oil should be tested with an oil tester and to determine whether the transformer oil is qualified or not. Oil sample can be get from the oil sampling valve of the oil purifier.