Oil Filtration Systems Performance and Usages
ZYL Vacuum Lube Hydraulic Oil Purification System is designed for purifying hydraulic oil, anti-wear hydraulic oil, aviation hydraulic oil, turbine oil, gear oil, refrigerating oil, heat treatment oil, internal combustion engine oil, etc. It can quickly remove impurities, moisture, gas and reduce acid value, finally, it restore oil viscosity, flash point and oil performance of lubricating oil. ZYL Hydraulic Oil Purification System is widely used in electric power, chemical industry, metallurgy, transportation, mining, machinery, cement, manufacturing, food and other industries.
Purified Oil:
Oil Purification System Working Principle
After the large particles and impurities removed by the primary filter system, oil will undergo capillary condensation by the demulsifying filter element from demulsifier system, and small droplets turn into large droplets, and then be separated from the oil. Dissolved water is removed by vacuum system through heating constant evaporation and vacuum pump out. After removing water, oil goes through fine filter system to remove mechanical impurities, finally, oil is purified completely.
Hydraulic Oil Filter System Working Process 
Lube oil goes through coarse filter system, and sucked into heating system by vacuum negative pressure, oil heated and water separated from of oil in the vacuum degassing tank. The water from oil is discharged by vacuum pump. oil is decolorized and deacidified by molecular sorbent and then recycled by oil regeneration system. also oil can be transported to fine filter system by oil pump and demulsified by demulsifier, oil and water separated, and oil is purified.
Lube Oil Purification Technical Parameters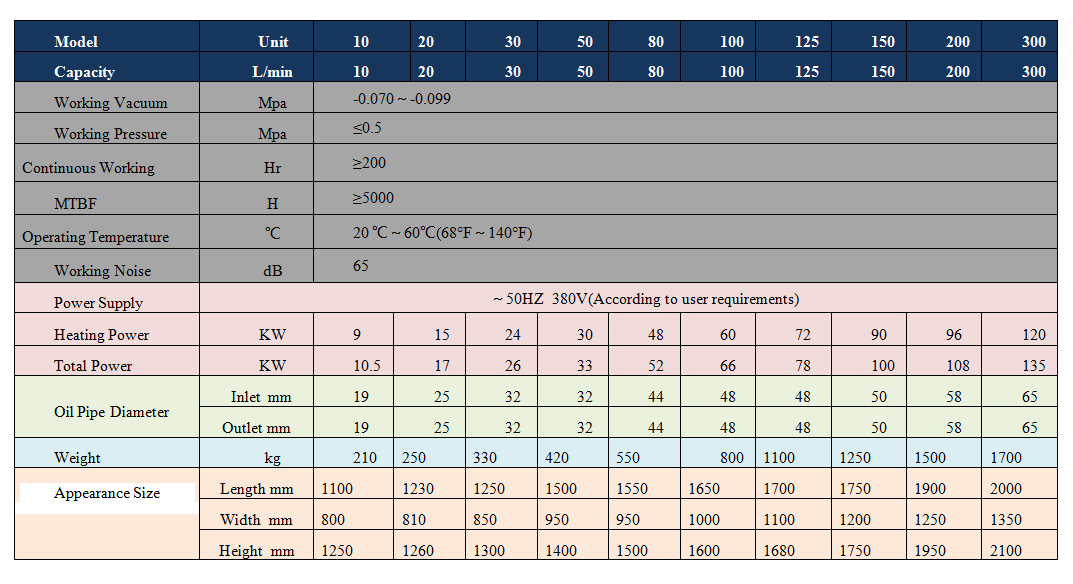 Optional Configuration
Vacuum Pump: Atlas, Leybold ,Busch,Joysun,Hokaido Etc.
Oil Pump: Italy Seim Screw Oil Pump, Germany KRACHT, Tianjin Screw Oil Pump, Etc.
Electrical: Siemens, Schneider
Other : PLC Controlling System, Enclosed Doors,
Oil Testers: BDV Oil Tester, Moisture Sensor, Flow Meter Etc.