Fire Resistance Oil  Filtration Performance and Usages
According to the characteristics of Phosphate Ester Fire-Resistant Oil (fire resistant oil), we designed ZYK Vacuum Phosphate Ester Fire-Resistant Oil Purifier(also called Fire Resistant Oil Filtration Machine). ZANYO adopt technologies of deacidification filtration, anti-sedimentation, mixing coagulation separation, vacuum drying, superfine filtration, etc., it efficiently removes acid, pigment, moisture, gas and impurities from oil. A series of technical problems such as anti-fuel compatibility, thermal stability, hydrolytic stability, solvent effect, specific gravity characteristics and toxicity have been solved by ZYK. It is mainly used for services of phosphate ester fire resistant liquid (oil) or other hydraulic systems with the fire resistant oil as the working medium. it can be online working and oil-filling.
Fire resistant oil is a kind of  corrosive oil, so the machine body uses the special metal materials which are compatible with fire-resistant oil, it combined with technologies of vacuum dewatering, degassing, multi-stage oil purifier system and new adsorbent to ensure treated oil achieve new fire-resistant oil properties.
Purified Oil:
ZANYO Oil  Filtration Machine Technical Features
The machine is all made of fuel resistant materials.
Efficiently removing acid and dehydration.
Equipped with a new and efficient regeneration and dehydration system. it can quickly and effectively reduce acid value and water content of fire-resistant liquid (oil), to improve resistivity, and restore the physical and chemical properties of oil.
High efficiency ultra-precision filtration (β value ≥200)
Using international advanced oil filtration system, the cleanness degree of oil particles after treatment can reach NASZ 1638-4 or above.
Beautiful appearance, easy to operate.
On-line maintenance of turbine electromechanical liquid regulating system, filtration of fire-resistant oil.
Regeneration and purification of degraded oil, to meet oil standards for the maintenance and operation.
Technical Parameters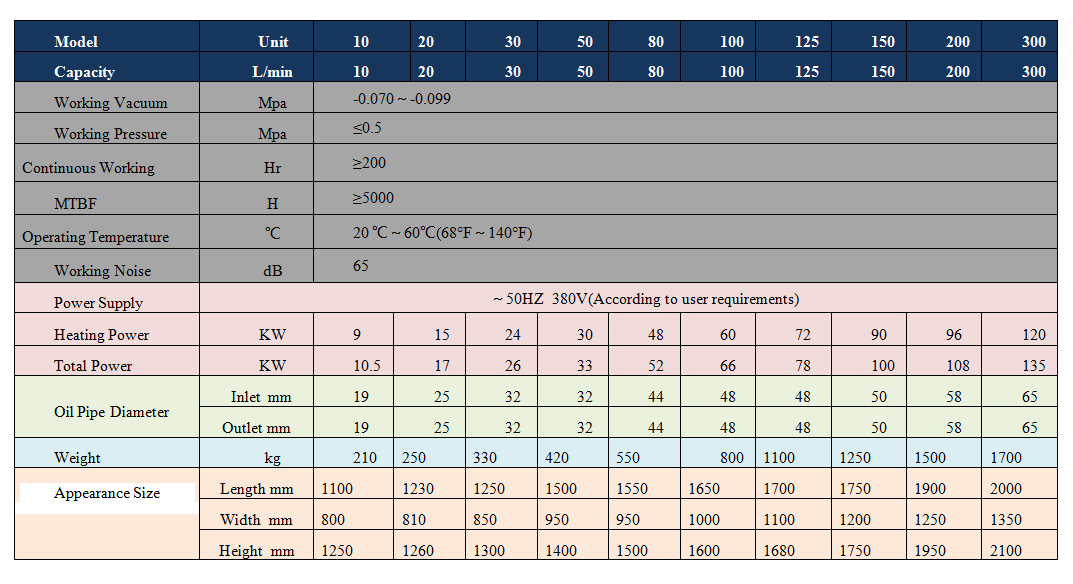 Optional Configuration
Vacuum Pump: Atlas, Leybold ,Busch,Joysun,Hokaido Etc.
Oil Pump: Italy Seim Screw Oil Pump, Germany KRACHT, Tianjin Screw Oil Pump, Etc.
Electrical: Siemens, Schneider
Other : PLC Controlling System, Enclosed Doors,
Oil Testers: BDV Oil Tester, Moisture Sensor, Flow Meter Etc.