An oil purifier is used for purification, dehydration, and cleaning by removing the various impurities from the oil. The oil purifier is designed for diverse sorts of oils including lubricants, insulation oil, transformer oil, hydraulic gear, turbine oil, compression oil and so on. It's important to choose a good quality oil filtration machine to ensure the best product by using the best method/s.
There are numerous oil purification filtration system manufacturers in China. Therefore, it might be an overwhelming proposition to choose the right China company for your business/industry.
While choosing a China company, ensure you check for their expertise, whether they are duly licensed by the government, their adherence to the various official laws and regulations, reputation as a leader in the industry, period for which they're in the business, and past client testimonials. All these are very important while choosing a company. The brand popularity plays a crucial role in this context.
Check ecology compliance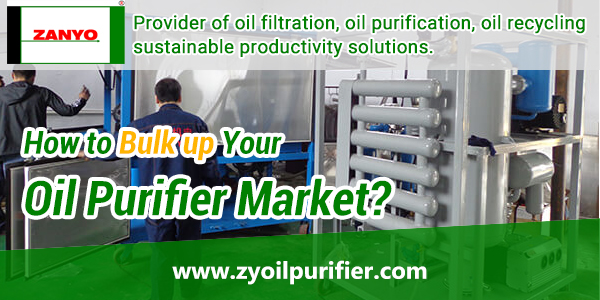 Check if the company complies with the standards under various supervisory and regulatory laws on ecology thanks to its global importance.
A company of great repute and having all the attributes foretold is Chongqing Zanyo Electromechanical And Machinery CO., Ltd., China.
Zanyo company have several advantages can create more value for customers
Zanyo company is a leading oil filtration machine manufacturers in China. It offers to provide oil filtration, oil recycling, oil purification solutions within all the acceptable parameters. When you choose Zanyo, you will accrue benefits for your business in the long run.
Based in Chongqing, China, Zanyo, has been in the industry for many years and earned the reputation of leading oil filtration, oil purification, oil recycling sustainable productivity solutions.
Product profile
Zanyo Company offers diverse innovative oil filtration machine, oil filtration machine, oil purifier, oil recycling plant, oil purification system, oil testing equipment, and air drying equipment. By providing such a variety of machines, the company ensures they can meet the requirement of any sort of potential clients looking for an oil filtration machine.
China Zanyo Company is the purifying oil factory where you can get not only standards oil purifying machines but according to your specific requirements as well. The company brings products and services to comply with all norms regulations aimed to protect the ecology, boosting productivity, energy efficiency, the safety of all – workers, users, and all stakeholders.
Great equipment are made
Zanyo works according to a special technology involving a system of automatic defoaming. All the oil purifying machines can realize the control of automation and test. This helps make it simple the manual operation and management.
Chongqing Zanyo Electromechanical And Machinery CO., Ltd is a leading purifying oil factory. The company also makes excellent quality transformer oil filtration machine, transformer oil purification system, transformer oil purifier, hydraulic oil filter machine, turbine oil treatment machine. Further, the company also provides air purification drying system, used motor oil recycling system, and other industrial filtration machines, and testers for oil.
Customers should send us requests for oil purifiers
If you're planning to work with Zanyo Company, China, you should communicate with them. Once, you get the reply along with various things like the price, duration of the project, how to execute the plan, etc., the best thing is to visit the manufacturers.
Zanyo may invite you to take stock of things that they do at the factory, how the process of manufacturing starting from concept, design, and fabrication.
The company follows transparent marketing practices to bring the best quality product at the most competitive prices. Thus, the company is committed to bringing the best value for your money.

If you have a plan to start an oil purification filtration system then the best option is Chongqing Zanyo Electromechanical And Machinery CO., Ltd.
To get into touch with the company officials, you can simply send an email mentioning your specifications like what sort of oil purifier you want, size, quantity, design, and other specifications. Furnishing such details will make it easy for the company to suggest the best machine that brings you the best oil purifying machine to match your requirements.
You could also contact them by visiting the official website and filling out the Contact Us form and clicking the Send button. The company will get back to you as soon as possible.