Good quality transformer oil is used in most power-based equipment. While assessing the quality of transformer oil its dielectric properties play the mina role. When the dielectric properties of Transformer oil depreciate, then to restore these properties you will have to go through the process of transformer oil recycling. In this write-up, we are going to discuss how to recycle transformers oil effectively.
What is Transformer Oil Recycling System?
To improve the performance of transformer oil or insulating oil various types of transformer oil recycling machines are used these days, portable and static. Portable machines used for this purpose are more versatile due to their small size, ease of use, and high efficiency. Various power-related industries including power stations, power plants, railways, power supply companies, metallurgy, petrochemical industry as well as the manufacturer of transformers use various types of systems for recycling transformer oil to make it usable again. These systems are used to purify various types of insulating oils like mutual inductor oil, unqualified transformer oil, capacitor oil, circuit breaker oil, high voltage switch oil and cable oil, etc. They remove gas, mechanical impurities, and water from transformer oil disposal to improve its dielectric properties as well as a flashpoint.
It can be used for vacuuming oil powdered equipment, power equipment, and drying moisture from electrical equipment. A double 3-D thin-film evaporation technology along with advanced and unique degassing and dehydration systems are used in this machine to separate gas and water for the oil effectively and quickly.
This system can be used online to treat disposable transformer oil consistently even in the absence of power and without changing its filter paper or changing or loading the transformer. It includes a highly efficient electric heating system, for reliable, safe, and uniform heating of unqualified oil by consuming less power.
Some of these machines also have pressure protection systems and dual infrared level sensors for safe and easy running of the machine. This transformer oil recycling system can also be used for vacuum drying electric equipment and filling vacuum oil as well as in the vacuum evacuation operation of a transformer. These machines also include an intelligent control panel and a dynamic display with a touch screen.
How is Transformer Recycling Process?
Transformer oil is used in most power equipment because its dielectric properties help in insulting, protecting, and cooling its active parts. Being a mixture of various hydrocarbons transformer oils are of a highly refined nature. In this oil, many bi-products start forming with time due to the oxidation of the oil.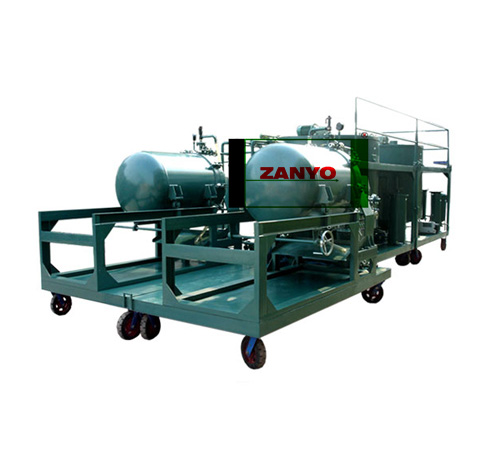 These bi-products can decrease the interfacial tension as well as increase the level of acidity of the oil.In this situation, the dielectric properties of the transformer oil deteriorate due to the formation of sludge in it. So, the oil has to be regenerated by recycling to prevent probable damages to the transformer's active parts as well as more deterioration of the oil. Transformer oil is recycled and regenerated by using transformer oil recycling equipment. At the inlet of the equipment, a coarse filter is used to filter the oil to remove harmful particles from it before filling it up in the equipment.
To improve the effect of regeneration of the transformer oil, it is heated to s desired temperature. It enters the equipment for its back section after it is heated effectively. Through the back section of the machine containing sorbent media and columns, the oil is pumped. In this part of the machine, all the by-products and impurities affecting the quality of the transformer oil are removed. Now the oil has to enter the degassing section of the equipment through a vacuum breaking valve to remove gasses and water from it. Then a pump on the outlet of the equipment pumps the treated oil back to the tan of transformer oil. The sorbent in the back section of the equipment gets fully saturated after some time as it cannot generate any oil now. To enable the sorbent to generate oil again you will have to restore its original state or reactivate it.
When, columns are drained in the tank of saturated oil in the back section of the equipment then the process of reactivation of sorbent starts. Throughout this reactivation process, a vacuum is created and maintained after draining the oil. Then the process of reactivation is started by using certain heating elements on the top of each column. During this process, the sorbent is restored to its original condition by removing impurities from it. This process can be repeated several times until you get reusable sorbent or you have to replace it due to lack of any properties in it.
ZANYO Recycle Transformer Oil Advantages
ZANYO Recycle Transformer Oil equipment can be used to purify transformer oil with the help of advanced technologies, and the latest design used in it. The advantages of this equipment may include:
In this transformer oil regeneration equipment, the special quality sorbent is used for the purification and regeneration of aged transformer oil.

It can filter out colloid, sludge, sediments, acid components, and corrosive elements effectively from the oil.

This equipment can save you the cost of replacing transformer oil by up to 90%

It can be used live online
Along with the purification of transformer oil this equipment can also be used for vacuuming and drying hot oil during the process of installation and maintenance of large transformers.

It can also be used for regenerating and filtering extremely high voltage transformer oil used in 500kv to 1000v transformers.

It can also be used for deep purification of new and imported oils of high grade.

It can provide you clean transformer oil in good color by removing all types of impurities, free-carbon, and acids from it and decolorizing it with its decolorization properties.
Conclusion
Thus by using transformer oil recycling equipment you can recycle transformers oil to regenerate and purify it several times before ultimate transformer oil disposal. It can help in reducing the cost of production in power-related industries as replacement of transformer oil every time can be a costly affair.