Performance and Usages
ZYAD Air Drying System also called Dry Air Generator. It is designed to provide high-purity dry air with dew point up to -55℃ ~ -70℃ during installation and maintenance of transformers, reactor or other large power equipment. It can replace the traditional drying methods such as hot oil circulation, nitrogen supplementation, vacuum extraction. It is more efficient, economical, safe and environmentally friendly.
When using air dryer to install and overhaul the electric equipment, it can not be affected by climate conditions, especially for overnight operation. it is only necessary to seal flanges and fill dry air and achieve to 0.02 ~ 0.03Mpa. you do not need oil filling, nitrogen supplementing and vacuum extraction. Transformer, reactor and other power equipment will not be affected by moisture, it is greatly reduce workload and to shorten working time, to improve the quality of installation and maintenance. ZYAD Air Drying System is also applied in storeroom, packaging, electronics, medicine and other industries, for air drying and cycle drying. It is also suitable for drying nitrogen, generating set hydrogen and SF6 equipment.
Freeze Drying System
This device mainly adopts imported fully enclosed high temperature compression refrigerating unit, which has stable and reliable performance and can obtain larger refrigerating capacity.
The system is equipped with imported fully enclosed compressor unit, air heat exchanger, evaporator, gas-water separator and fine filter.
For the refrigeration process, R22 refrigerant is firstly compressed by a fully enclosed high-temperature compressor, cooler, desiccant and solenoid valve. Finally, it is returned to the refrigeration compressor by evaporator, and a low temperature environment of 0-5℃ is obtained.
Technical Features
Not influenced by bad weather conditions, especially for overnight working
Can shorten working period and improve maintenance effect.
During oil filtration, it can fill dry air into oil equipment block and oil to improve oil insulation function and decrease the moisture.
ZYAD Air Drying System adopts low pressure oil-less compressed system and low-temperature condensation moisture removal technology.
Small dimension, light weight, easy operation, energy saving and high reliability.
Technical Parameters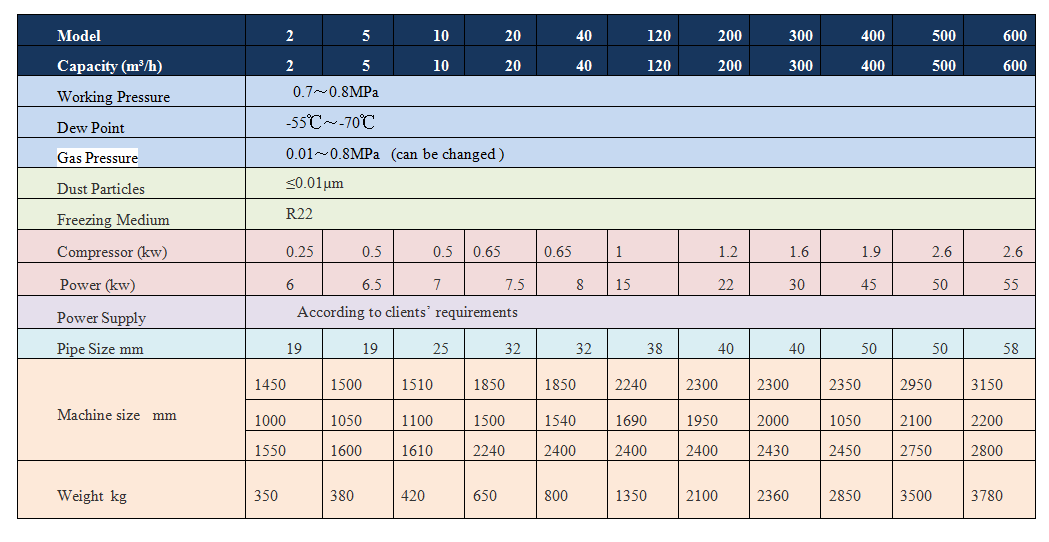 Optional Configuration
Imported Dew Point Meter
Enclosed Doors