Transformer oil in an electrical power industry happens to be one of the most important assets that need to be purified before use. We say this because we have some important facts to share with you in this article. But before that here is an important thing to note down:
The electric power industry is a complete package of generating electricity, the transmission of electric energy in bulk to the substation, distributing and finally providing the electricity to its end consumers.
The final stage which is the distribution of electric energy to direct consumers is where the transformer is heavily used. So, in order to keep the regular supply of power, it is necessary for the operators to keep maintain those transformers.
It can be done by providing the transformer with transformer oil. Now, one of the qualities that the transformer oil has – it needs to be contamination-free otherwise it can ruin the transformer.
Meaning, any sort of sludge, mixed gas, or other elements present in the oil can make it very deadly for the transformer. And, this is where transformer oil filter machine comes into play.
In this article, we have shown how the transformer oil purifier works along with the best oil filtration manufacturer available in the market today. So, without further ado let us begin with understanding how exactly the transformer oil is helpful for the health of the transformer.
Transformer oil and its functions
Transformer oil is also known as insulating oil which is used in transformers because of its two very strong properties and those are –
Stable in high temperature.
Electrical insulating properties
How transformer oil can be utilized in transformers
The properties of transformer oil are the prime reasons why it is used in the transformer, here are three functions that transformer oil can serve in a transformer –
1: Transformer oil as an insulator:
How – The windings in the transformer can cause short circuits, so to avoid that, transformer oil is used which acts as a resistance between windings.
2: Transformer oil as cooler:
How – The transformer works when there is an alteration of voltage (up/down), due to this condition the transformer gets heated up and requires some element to maintain the temperature.
Transformer oil due to its properties can excellently help in this condition by cooling down the condition.
3: Transformer oil to prevent damages:
How – Transformer can be easily damaged by various factors such as short circuits, overheating, etc. so to prevent that condition transformer oil is used as an indicator of what the current status in the transformer is.
Here are the benefits of filtered/purified transfer oil
Benefits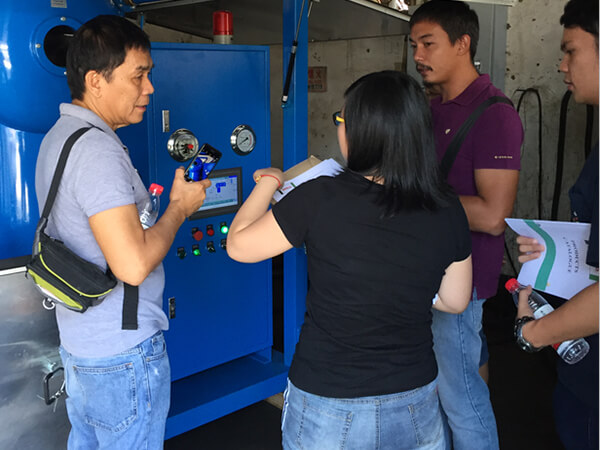 The insulation or resistance properties of oil are improved.Transformer life increasesDecreases chances of short circuits in transformers
How Transformer Oil Purifier Work?
In the following paragraph, we have discussed the procedure that is followed to purify the transformer oil.
Step 1 – Rising the temperature of transformer oil.
Why – Due to heat, moisture and gas gets separated which makes the oil easy to filter.
Step 2 – Removing impurities
How – 1. With the help of filter candles
2. By centrifuging action
Step 3 – Dehydration and degasification of transformer oil
Dehumidification of transformer oil and removal of gas.
NOTE: It is important that a good quality transformer purification equipment is used in the process.
Where to find quality Oil Purifier Plant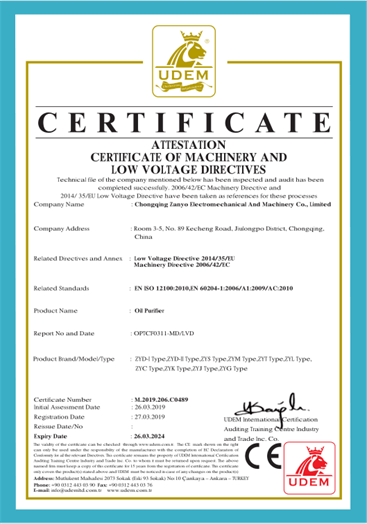 There are many manufacturing companies out there that can easily provide you with purification oil machines and equipment. However, it is recommended for you to invest in a quality transformer oil filter machine.
You don't have to google anymore as we are providing you with one of the best oil filtration manufacturers available in the market today.
ZANYO Transformer Oil Purifier
ZANYO is a leading manufacturing company in China that has wide range of products for electrical power industry. Few of the product includes – Oil Recycling machine, turbine oil treatment machine, lubricating oil purifier, transformer oil filtration machine etc.
It is globally operating company with all the products passed with CE testing, ISO, and certificates. Meaning the main objective of ZANYO is providing environment-friendly, energy efficient, quality and safe products to its customers.
Summary
It is very important to maintain the transformer to keep it running and supplying the power. Transformer oil helps in the process while providing extra benefits to the transformer.
However, these benefits cannot be utilized by the transformer if the oil is contaminated. So, in order to purify the oil, it is recommended to use a high-quality transformer oil purification machine. And if you are really looking up to invest in a high-quality machine you must contact ZANYO, as it has high quality plus safe products for you to offer.