ZYGD Black Engine Oil To Diesel Oil Distillation Machine
Application:
Black oil contains used engine oil, heavy fuel, bunker fuel, oil sludge, tires oil, plastic, crude oil etc.
During distillation processing, gasoline and diesel could be obtained through different distillation temperature ranges.
40-190℃ is gasoline fraction range, and 250-330℃ is diesel fraction range. After pyrolysis(cracking) and cooling, about 15%-20% liquid is water and gasoline. The light oil similar to gasoline which is able to meet standard of 90-93# gasoline after supplement of additives.
Approx 80%-95% liquid is similar to diesel and able to meet the specification of -15# diesel after supplement of additives.
They're able to be used as industrial or civil-use fuel, even power driven fuel.
The final products is diesel oil, which can be reused directly, such as  ships, trucks, heavy machineries, cars and so on directly.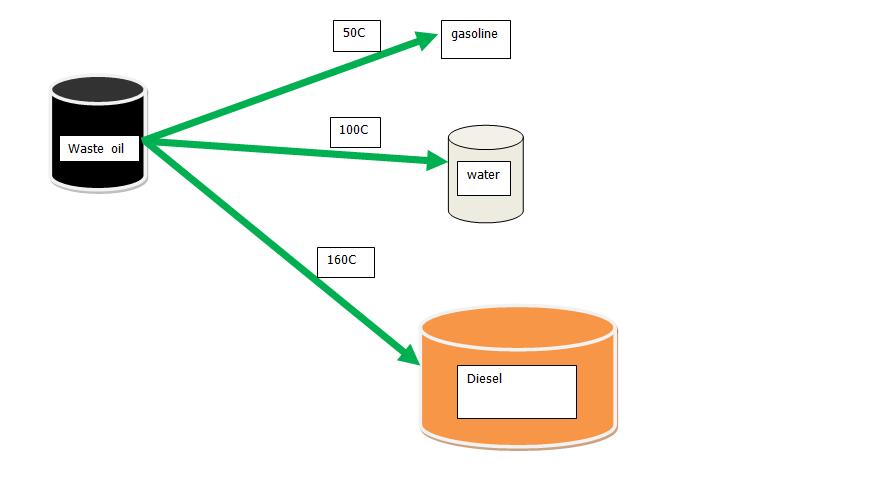 Main Features:
1.The entire distillation process is absolutely environmental protection without any smoke and smell.
2.High quality recycled oil.
3.High heat efficiency which can guarantee the oil Distillation.
4.For the heating scources, We can design the machine depends on your requirements. The machine can be used to heat by coal, gas, wood, diesel, electricity and so on.
5. processing time. it will produce gas when oil is heated, and those gas will be can be sucked to the furnace for burning.
6.High recovery rate, from 80% to 95%.
7.The flue dust removal system with bidirectional spiral hydrodynamic impact on dust chamber can ensure that soot emission can be reached national standard for effluent discharge.
8.High-efficiency gas heating system. During the oil distillation processing, there are some gases(methane–butane)produced when the temperature up to 150℃.Those gases will be burned in the special gas nozzle to produce a lot of energy and to save the resources.
9.Safety system: Decompression device is adopted water-circulation type to guarantee the security of the whole system.

About ZANYO Oil Treatment Company:
We manufacture of all kinds of oil recycling machinery.
After 10 years of the study of the waste oil recycling, we mature technologies and skillful workmanship, we can make all the details of the machine perfectly. And we can design the machines according to customers' special requirements.
Long time of the quality warranty, and15-30 days of free installation and free training onsite. (big machine with longer free installation time, please contact with our sales worker, if you have any doubts)
Consumables Of This Machine
the only consumable of this machine is the catalyst, for the one ton waste oil, it only cost you 5USDollar.
The Byproduct Of This Machine
the by products of this machine is gas, water, some oil sludge(residue).
the gas is recycled and used as the fuel sources.
The water is can used as the cooling water.
The oil sludge can make asphalt or as the burning sources.
customers can choose electricity, coal, gas, diesel as the heating sources.
the recovery rates are from 80% to 95%.
if any doubts, please contact with our sales worker, we can help you to finger out.
100% brand new, 12 months quality warranty(any of the damage caused by buyer shall not be responsible by seller)quality guaranty.
We also can extend the warranty time according to the specials design and customers requirements. (please contact with our sales for details)
After-sell service:
free services as following:
A: overseas installation guiding service
B:machine maintenance and replacement guiding service.
C: quality warranty is 12 month, we provide lifetime technical assistant.
D: Old customer service(talk with our sales)